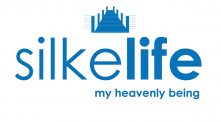 our chakras eBook
Posted by info@silkelife.com
Posted on August 16, 2018
when energy flows in a balanced way through the seven primary chakras, our health and well-being is revitalised, there is greater positivity in our lives and we start to heal old wounds.
practising simple daily activities, associated with each of the chakras, helps to keep our energy flowing freely.
in this free ebook, you will learn what the seven primary chakras are, why you may feel the way you feel, and, through specific enjoyable activities, learn to release blockages and find balance.
allow this book to guide you in increasing your awareness of the chakras on your heavenly journey.