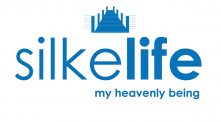 silkelife launches on the retail market
Posted by info@silkelife.com
Posted on September 9, 2018
silkelife, the wellness range based on pure essential pine oil, launches on the retail market in Denmark.
in addition to the rich foot cream, the pine product range, consisting of shower gel, bath foam, bath oil, sauna oil, body lotion, alcohol rub and room fragrance, made its debut in the well known and established natural store, Heksekosten, which was founded in 1977.
the residents of Silkeborg were eagerly awaiting the launch day on August 31st, having read the silkelife feature article published in the local newspaper, Ekstra Posten, with a circulation of approximately 45k copies.
as well as Silkeborg being nestled in a pine forest, pine has an important history in Silkeborg where pine essential oil baths were part of the healing treatment for guests at Silkeborg Bad, a local spa existing for 100 years.
Siobhán, the founder, personally presented the product to the Heksekosten clientele, listening to the stories and memories that the scent of pine evoked. For one lady, it evoked the scent of her homeland, which she had left 24 years earlier.
silkelife is built on a rich and inspiring footing, with several appealing messages behind the brand, namely; the inspiration of Silkeborg, the healing benefits of pine, the mythology and character of pine, the story of the global founder, and the fact that each product represents one of the seven primary chakras.
According to Siobhán "through silkelife, our experience of being outdoors deep in a pine forest is awakened. the forest gives us the opportunity to indulgently connect with our senses freely and purely. our sense of touch, taste, smell, hearing and sight."
She adds, "simply quietly spending time in a forest is known to improve overall feelings of wellbeing bringing us tranquility and calm. as nature brings us physical and psychological health benefits, so too does immersing in the healing effects of pine."
Siobhán is inspired by the character traits of the pine tree, where in Asian cultures, pine trees are revered representing wisdom and strength. as the pine tree grows, always striving to reach higher, we are invited to evolve, develop our higher purpose, and become wise like the pine tree.
if you would like to breathe in the woody pine fragrance, experience the magic of pine forest bathing, and, immerse in the healing effects of pine, indulge your senses in silkelife pine.